Kimberly & Celeste Askvig
Realtor®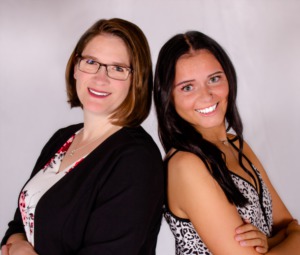 Kimberly and Celeste can help with all of your real estate needs in Omaha and surrounding communities.  We strive to deliver excellent service and will treat you like you're our only client.  We are here to help with all of your real estate needs.   We are patient, friendly, professional and pride ourselves on really getting to know our clients and their needs.  Buying or selling a home can be a very emotional process. We would love the opportunity to guide you through the real estate process and assist you with all the paperwork.
Lets schedule a time to discuss your buying or selling strategy today!  You can call or text Kimberly at (402) 689-9244 and Celeste at (402) 599-9715
Note from Kimberly:  Growing up I had the opportunity to experience both small-town living in (Kennard, Ithaca & Wahoo) and living in the suburbs of Omaha. My husband and I have lived and raised our 4 children in Millard for over 20 years. I had a successful career as a corporate accountant for many years. After experiencing the home buying process with my oldest son, I was inspired by a friend to check into what it would take to become a realtor. After some research, a few classes and passing the exam; I was a licensed realtor! I was able to switch from full-time accountant to full-time Realtor in just 6 months.
Note from Celeste:  As long as I can remember I've been indecisive. Whether it was about clothes, what to eat, what my plans were.. I never knew.  When it came to a career it was no different.  After watching my parents as I grew up and wanting to be just like them, it only made sense to follow in my moms footsteps.  I saw how passionate my mom was about real estate and how she enjoyed it and took an immediate interest.  After sitting in a real estate class, for the first time I knew this was a decision I was extremely sure of. I took such an interest in learning about all aspects of becoming a real estate agent. After taking my classes and studying for many hours I finally got to take my test, and I passed. I haven't looked back since, it brings me such joy to help someone find a place they will call their new home!
Testimonials
My husband and I had been looking for a new home for about a year, attending open houses and spending Sundays out looking. At an open house we attended, we met Kimberly. We loved the house and could see past flaws others could not. However, turns out this was not going to be our home. Kimberly was very observant during that open house and reached out offering to show us some homes that recently had come on the market. We agreed to go. She was amazing. She had listened and
was showing us homes with exactly what we were looking for. Quickly we hired her and placed an offer on one of the homes she had selected for us to see. She remained an advocate for us all the way to closing. We are so happy with her professionalism, compassion and her ability to make this process fun. We just closed on the new home and could not be happier!!! Thanks Kimberly!!!
Cindy Mason
Kimberly did great with helping us sell our first home and with the purchase of our second home. She was patient and was with us every step of the way. We had a very short close and she was able to get everything done on time.
Ashlee Anguiano
It's been just 2 yrs for me in US, I never purchased a house, not even in my home country. I knew nothing about real estate transactions and till date even after closing the deal, I do not
??
. Kim was such a great help that we never had to worry about anything. She took care of everything and made the transaction look like buying grocery from Walmart
??
.I feel lucky that we had Kim as our realtor, she goes out of the way and helps her clients.Any day, I would recommend Kim to be your realtor.
Asif Iqbal
After I found out that the company I work for was relocating my position to another state, I was really concerned about timing. I knew I needed to sell my house quickly. Kim's knowledge and expertise of the real estate market helped me do just that....literally, I had an offer within 3 days after putting it on the market! It was such a relief to be able to sell my house prior to moving. Thank you, Kim, for helping make the whole process as stress-free as possible!
Kate Crim
We had an awesome experience working with Kimberly to find right home for our family. We met Kimberly at open house and texted her to help us buying home for our family. This is my first time buying home in USA and Kimberly helped us to find the right home for our family. She has great knowledge on the process involved in buying a home and helped us in every step of the process. She was kind enough to answer all my questions even after closing the home.I would strongly recommend Kimberly as your next seller or buyer agent. Its 5 out of 5.
Sarath Sankar