Ditching Sandtraps While Social Distancing in The Star City: 3 of Lincoln's Best Golf Courses
Posted by Alex Heyen on Friday, August 7, 2020 at 4:18 PM
By Alex Heyen / August 7, 2020
Comment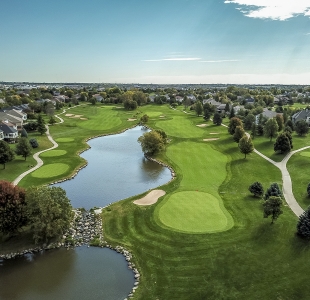 Whether it's solo or with a few of your favorite friends, there is nothing as inviting as the relaxation and downtime of loading up the clubs, making a bit of small talk before teeing off, and letting the day's adventure begin. You may have just purchased a home here in Lincoln, just ranked on two national surveys as the "happiest population in America." If you don't reside here and are just visiting, a weekend of 9 or 18 holes may be just what you need to complete your visit and time of family bonding.
Amy Alcott was quoted about this game that involves skill and precision but still rewards an abundance of tranquility: "Keep your sense of humor. There's enough stress in the rest of your life to not let bad shots ruin a game you're supposed to enjoy." There are 16 courses in the Lincoln metro area, and as with any "Tops" article, it is always difficult to pick just three. Every course has its own distinct style and flavor, and we asked some locals what they thought instead of just hastily chasing down Google reviews.
Part of Lincoln's charm is that it is still at heart a college town, and has ignored bending over backward to want to be a bustling metropolis. Over the past three years or so that has changed, and everyone seems to be upping the ante, golf courses included. Staff is more attentive, more attention is paid to customer service, and ground is kept meticulously. Here are the 3 courses that we thought were worth loading up the cart and caddy for in Lincoln, and enjoying the fairways and putting greens while putting the pressures of the office behind.
Pioneers Golf Course
Located on West Van Dorn Street, Pioneers Golf Course gets to revel in the claim of being the oldest public golf course in the city. Originally boasting 27 holes, it is now an 18-layout, and many say it is still one of the top courses in the Cornhusker State. It may look easy at first glance, but there are unique hazards such as the large pond in your way on the east hole #4. A landmark that has played host to the Nebraska open, many enticing bluegrass fairways are surrounded by beautiful pines. Hole 1 on both nines offers a chance for fantastic tee shots, and this is just one of those places where you can hone in and enjoy everything the sport is about.
Wilderness Ridge Golf Club
The reason why we had to pick this after talking to 3 avid golfers in Lincoln is that they agree that it is awesome in terms of "middle ground". It is open to club members and the general public, but there is the upper-level essence of a course that was built with the finer things in life directly in mind. There is a 7,100-yard championship course as well as a nine-hole, par 32 course on the grounds, and 6,000 trees as well as many waterfalls and streams situated here. This is where the University of Nebraska golfing teams proudly call home, and it won us over with a resort-style attitude that is still open to the public.
Hidden Valley Golf Course
Another golf course that is situated south and away from congestion, this is known endearingly as "the working man's course" but still offers memberships and sees many return visitors. When this course was designed the main objective at hand was making sure that the golfer on-site would have to use every single club to properly conquer the sand traps and ponds that come into play on several holes, and it is just one of those courses that local golfers enjoy time after time. Built on land that once had very tall prairie grass to contend with, it is now a nice blend of hills, trees, doglegs, bowl-shaped greens, and great fairway length.