In Search of Savory Slice After Slice: Omaha's 3 Top Places for Pizza
Posted by Alex Heyen on Friday, August 7, 2020 at 4:34 PM
By Alex Heyen / August 7, 2020
Comment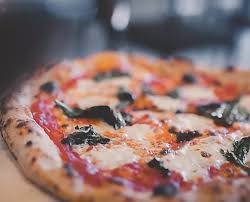 Boasting a world-class zoo, high quality of life, the exciting first crack of the bat every year during College World Series, and charm that derives influence from both big city and small-town living, Omaha has long been a destination for those furthering their career and buying a new house. If you've just moved here or if you have been here all your life, there are always key things to locate in your new neighborhood: the grocery store, elementary and high schools, and the best places to go when you feel like a family celebration or perfect food-filled first night of the weekend.
Pizza is one of those foods that encourages fun and close-knit groups, and also gives you the opportunity to heap on your own goodies in the form of toppings and enjoy something a bit out of left field. A few decades ago people thought that black olives and anchovies were a bit strange: now you can get toppings and styles of extras add-ons to heap on top of your sauce that was at one time never thought of! These are difficult times to make a go of it in the restaurant business, and every locally or nationally sourced ingredient is woven into each thought-through recipe with special care.
There are places here in Omaha that have the deepest, cheese-laden slices possessing a distinctly Chicago style, and also fantastic joints where just a thin-crusted slice of pepperoni and a house red wine or crisp India Pale Ale hits the spot. From the piping hot rack to your table, the various types of pies' journey that ultimately end up in your belly are definitely spun from a labor of love, and chefs and owners alike that love to see people enjoying their goods. There are many establishments beyond this list that we know anyone living or visiting Omaha would love, and we encourage you to seek them out. Here are the winners that made it all of the way to the "Leaning Tower's" top!
Pitch in Dundee:
Pitch is one of those top-notch places that tops many lists, and for good reason. The crust is light and has very airy properties, and after cooking a few air pockets and dark spots that collide perfectly with the sweetness of the tomato sauce. Boasting 12 signature pizzas and a different specialty pizza up for grabs every week, you never come up without options regarding selection. One of the local favorites is "The Mia": San Marzano tomato sauce, house-made fennel sausage, pepperoni, and fresh mozzarella. For a great option during the dog days of summer, try the Marsala: it's concocted with a mix of figs, goat cheese, pears, arugula, truffle oil, and mozzarella.
Tasty Pizza:
It is certain that to nail down a spot on Omaha's Top 3 pizza parlors list, you do need to bring an impressive and outstanding blend of authenticity and flavor to the table. Just off 56th and Leavenworth, the business has just a few parking spots and about 8 tables inside, with the option to choose 16 different pies. The pizza is created right in front of your eyes and then moved through an oven before arriving fresh to your table. Familiar options are available, but Tasty Pizza really did it up right when deciding to include Pesto Bruschetta and Mckenna Macarena to the list. We have heard that the artichokes add an amazing kick to the Pesto and that the Buffalo Chicken pie here is of an otherworldly depth and texture. The Meatball Pizza has the novel ingredient of diced cherry tomatoes in the recipe, a completely unique spin on a classic!
Noli's Pizzeria:
One reason that this delicious Omaha staple rounded out the list is because of their true dedication working overtime to preserve the New York Pie flavor. It is no secret that they have a longstanding partnership with a filtration company to bring New York's water all the way to the taste of the finished product. For a taste that is as robust and deeply-layered as it gets, try the Capricosa: Salami, Portobella, Black Olive, Tomato Sauce, and Mozzarella are all blended into a crust with mouth-watering results that will have you just as satisfied as a slice straight outta Little Italy or Morris Park. The DeManzo pie actually begins with the staple of Filet Mignon, and the taste is added to fantastically by the caramelized onions and garlic oil.