Primo Places to Add the Pickle on Top: The Three Best Burgers in Lincoln
Posted by Alex Heyen on Friday, August 7, 2020 at 4:29 PM
By Alex Heyen / August 7, 2020
Comment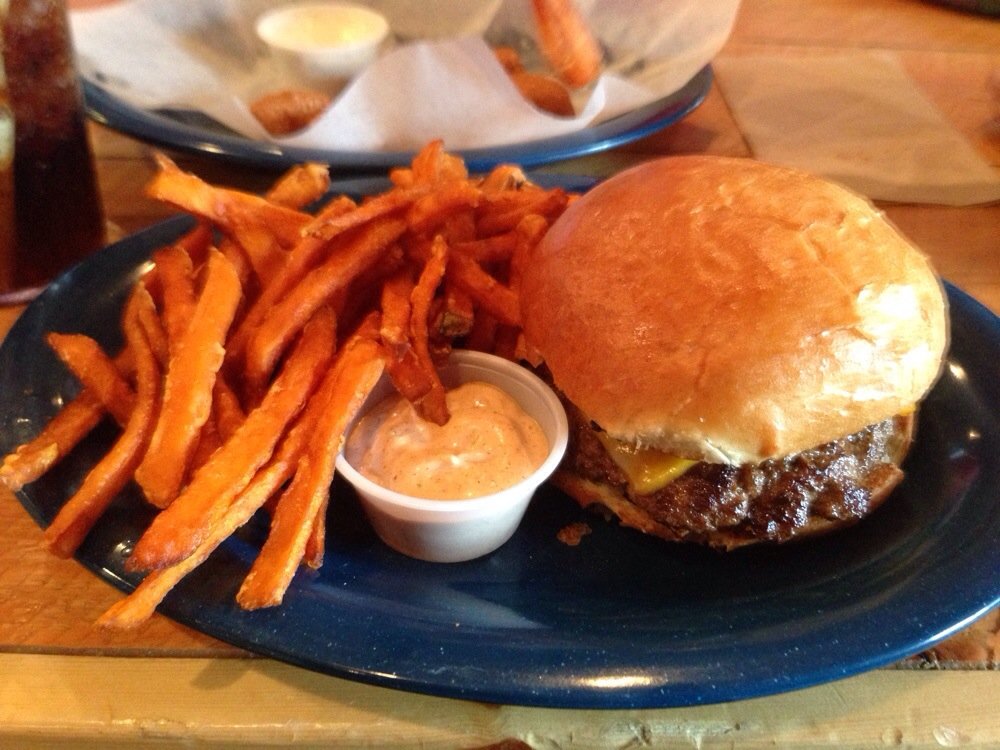 Contributing Writer: Jon Weirman
From the days of drive-ins full of '55 Chevys in the parking lot and jukeboxes inside playing the newly invented genre of rock and roll, some burger joints have undergone massive changes, and some are true to their roots. Some might ask: what is so difficult about a meat patty on a bun with perhaps a side of fries and whatever toppings you want? Stand back and let the meek preside, you who think the only great outing in the culinary sense is that new French restaurant with portions that seem to be about the size of a matchbox car!
You can flavor a burger with so many different elements the choices are now endless. Jerky, teriyaki, Hawaiian style, Jalapeno, mushroom, blue cheese, peanut butter, and many more offerings making what some may have once thought was a dull slab of meat that much more inviting. Being located in the Midwest, we don't have a shortage of beef, and many proud establishments have had their signature burger the main draw on the menu for years.
Going out for a burger and catching up with a friend or loved one is a pastime in the very all-American sense, and many residents of a city are always wanting to be in the loop as to where the best burger is. We asked about 20 different Star City locals where the best patties are taking up plate space, and a few of them had been in the restaurant business themselves. To be honest this was quite a hard decision to make, with Lazlo's being the closest thing to "runner up" that we have seen in a while. Here are the three best places to delve into a hamburger in Lincoln, and to "let the good culinary times" roll just a few minutes longer on your lunch break or weekend.
HF Crave:
This was hands down the name that was mentioned the most frequently, and the establishment that was heavily raved about. These burgers are made from Hollenbeck farms all-natural beef, and there are 10 Nebraska craft beers on tap as well as an arsenal of signature cocktails made with Nebraska distilled spirits. Here you can get gastro-guilded delights such as the HF Stuffed Pepperjack: two patties stuffed with jalapeno cream cheese and topped with pepperjack cheese and jalapenos as well as their famous honey-chipotle sauce. If you're there on the earlier side of the day, the "Rise and Swine" offers up a beef pork patty topped with American cheese, a fried egg, and strawberry maple jam.
Fred's in the Pub at Parkway Lanes:
This was an iconic local favorite that had not even crossed our minds when we began our taste-bud satisfying scavenger hunt. A large number of the people we talked to just said that when they first ordered it more than hit the spot, and the Nebraska Beef Council themselves selected it at one of Nebraska's top ten. Burgers, beer, and bowling sure do go together, and they offer the standard, cheeseburger, veggie, bacon swiss, fried egg, peanut butter, BBQ bacon cheddar, Swiss mushroom, and pepper jack jalapeno choices as well. We'd be willing to bet that the Reuben and patty melt here are also top-notch, and there's nothing as satisfying as enjoying sustenance like this while the pins drop and ball scorches across the wood lanes in the background.
Nitro Burger:
Known for their awesome take on "twisted traditional street food cuisine", this is a place that feels like the burger joints of the 1950s, with v-back booths and real house-made ice cream milkshakes. One local's sworn favorite is the "Jeremiah Johnson": beef patty with sharp cheddar, hickory-smoked bacon, smoked chicken breast, smoked onion aioli, and toasted kaiser. You can build your own cheeseburger as well, there's a veggie beanie option, and other mouth-watering specialties such as the "Stars and Stripes" burger: an All-American burger with beef patty, sharp cheddar, sliced fresh onion, sliced Roma tomatoes, sliced pickles, dill mayo, and smoked paprika. There's a street truck too, and seeing it roll up at your party or workplace will probably cause a mad dash to the front of the line!