Teeing Off On Master's Tourney Grade Holes: 3 Great Golf Courses in Omaha
Posted by Alex Heyen on Friday, August 7, 2020 at 4:07 PM
By Alex Heyen / August 7, 2020
Comment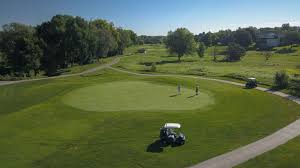 The famous Harry Vardon was quoted regarding the game of golf, "For this game you need, above all things, to be in a tranquil frame of mind." During times like these, we can agree that probably just about everyone in the Omaha metro is ready to "grab a hefty dose of tranquility". Golf is about so many things: constantly trying to get around par, staying out of sand traps, the vigor of the line drive, and the grimacing precision needed for a stellar putt.
Whether you just bought a new home in Omaha or have been here for years, your thoughts may be wandering towards playing golf, and they should be! Too much time cooped up inside, the opportunity to be distanced in nature and the sound of the early morning drive are all things that you can't stop craving once the allure sets in. From Arizona to Florida, we have enjoyed watching pro-quality golf courses pop up and thrive for years, with their massively lush backgrounds and abundance of scenery.
We promise you that golfing right here in Omaha is the furthest thing from a bore you could ever imagine! Since Omaha is a rich urban area with many large companies and a greatly-appreciated tech sector moving in, there is a multitude of variety here to quell anyone salivating for a quick 9 or 18 holes to get in some solace.
Known an established spot on the national map for tournaments, Omaha has over the last decade been given a lot of props for its golfing community. From sprawling doglegs near mansions to more urban courses that will give you a sudden challenge in the form of a dozen or more small sand traps, here are the 3 courses that stand out to the true 9-iron proficient aficionado.
Eagle Run Golf Course:
This is the 30th year Eagle Run has been in existence, and it consists of two side-by-side 9-hole courses that offer a consistent challenge to golfers of every skill level. The advanced golfer sees an immediate tug-of-war on the turf and fairways with both courses opportunities to take major risks, and less experienced players will keep coming back for the rich and well-layered fairways as well as roughs that aren't quite like you'd have to negotiate on the PGA Tour. Also known for their exceptional Junior Golf program on a par 3 course, they also are always getting consistently high marks for their level of caddy service and sense of accessibility.
Jonny Goodman Golf Course:
No, we admit that this is not akin to Bushwood Country Club in the famed movie "Caddyshack", where only the snobby survive and there's a waiting list miles long to get in. This is one of Omaha's 8 city courses, but there are some hidden gems here that are worth anyone's attention who wants to get off of their Golden Tee arcade simulator and get golfing in the real world. Water comes into play on all four par 3's and not on any other holes. Midwesternliving.com doled out heaps of putter-primed praise for the 12th hole as one of Nebraska's most unique: an extensive tree line, pair of bunkers and steep green cause even a true club master's instincts to be in constant check. Located on the south side, This is by all means not an outing that will break the bank and will still surely get you excited to get swinging again.
The Player's Club Omaha:
This was one of those courses on the list that no one can righteously ignore: designed by Arnold Palmer himself, The Player's Club is Omaha's only 27-hole private club. This is one of Omaha's premier destinations, hailed by Golf Digest in 2010 as one of "The Best Golf Courses in Nebraska." Expertly incorporated and woven into its natural environment, it sprawls over 350 acres of Nebraska farmland and signature changes in elevation and difficulty. Holes 3 through 6 are for the true expert, and even if they leave you a bit off track and muttering a few obscenities, you'll know that you are standing on a lush green that is a true work of art!