The "On the go" Taste Trio Concocting More to Come: Trucks And Taps
Posted by Alex Heyen on Tuesday, August 11, 2020 at 9:01 PM
By Alex Heyen / August 11, 2020
Comment
The quite knowledgeable and well-versed Anthony Bourdain once said about truck food: "The more street food we have, the more it's embraced by every income strata, the better world we have." The mouth-watering history of the American food truck dates back to the late 1800s, with the introduction of the "Chuck Wagon" making its way down the road to feed cattlemen and wagon trains then traversing the old West. Sausage vendors sold their wares just outside the student dorms at universities such as Harvard and Yale during the 1890s, and the quickness and ease of "pop-up" food were then recognized but didn't come back in a major way for some time.
During the 1930s Oscar Mayer rolled out the first portable hot dog car, but aside from Ice cream during the 1950s, many food trucks did not really appear in numbers until the 1960s. These made their rounds to construction sites around the country, offering quick food without having to go far. During the early 2000s namesakes such as Kogi BBQ hit the streets of Los Angeles, while cable TV and internet showed the entire world the wares of some of the best creations in New York and beyond.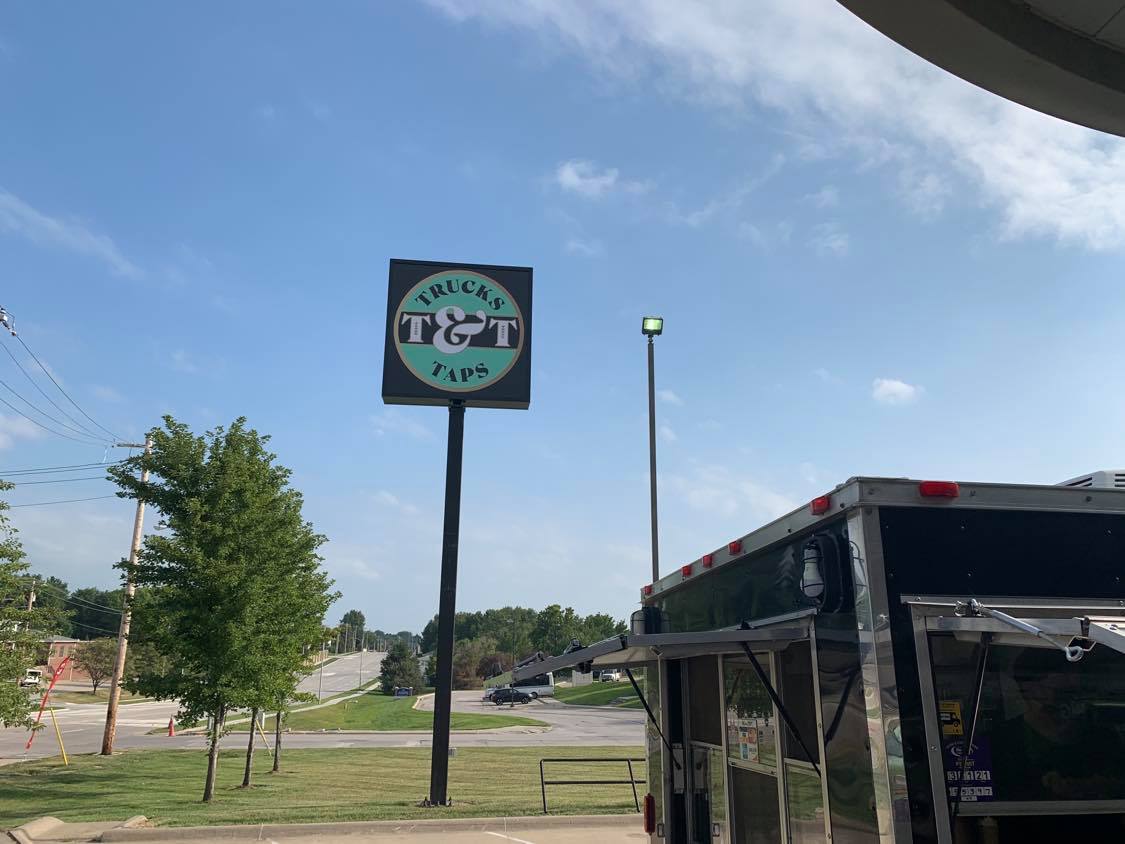 The industry has now taken on quite a new meaning, and we knew right away that we would love a part of our afternoon spent at "Trucks And Taps", the Omaha spot that boasts Local food trucks, an outdoor patio, and beer with a Full Bar. With three resident trucks rotating shifts and more coming soon, they are located at 108th and Q, with a "Think food Hall" meeting at a downtown food truck on Thursdays.
The Dire Lion is "Omaha's Premier English Mobile Chippy", featuring the standard fish and chips fare Londoners have loved for decades. The addition of Tikka Masala is more than enough to excite any serious foodie: the collision of the very layered spices of India with the commoner's need for a street-side lunch became the go-to from Piccadilly Square to Liverpool, and chased away many day workers' rainy-day blues across the pond. If you've never had Bangers and Mash, the caramelized onions heap on the extra hint of character here, and Omaha should be proud to have this niche within its offerings.
Big Greens Q offers up delicious old-world cooking utilizing fire and smoke to transform meats free of antibiotics and hormones into the tastiest truck food offerings this side of the Missouri! You can get your hands on a classic Pulled Chicken Sandwich, Smoked Tofu & Veggie, Pulled Pork sandwich, or opt for a warm-weather favorite like the Cubano: pulled pork, ham, Havarti cheese, pickles, and Carolina Gold Sauce. With pulled pork or borracho beans and homemade tater tots on the side, this is a true example of a food that can still provide a healthy alternative to the drive-thru window while sacrificing no small detail of deviousness in the finished product!
Wonton Jon's begins their diligent and thorough process of food creation by baking their very own light crispy wonton shells, with a flavor that is simply out of this world! They are then filled with the highest-quality and delicious ingredients, with vegan and gluten-free options also on the list. With exquisite favorites such as Mushroom Ceviche and Thai Peanut Butter Chicken, you can also fill up on traditional offerings such as Crab Rangoon. If you're feeling adventurous enough to try something on the much spicier side of things out, go for the Mushroom Kimchi: a perfect blend of sauteed mushrooms, spicy Kimchi, and soy sauce. Putting an Asian spin on quick and accessible food has bode very well for this awesome truck, and having them cater your event would simply be off-the-charts irresistible!