The Prime Allure of Pro-Caliber Beef: The Top 3 Tastiest Burgers in Omaha
Posted by Alex Heyen on Friday, August 7, 2020 at 4:24 PM
By Alex Heyen / August 7, 2020
Comment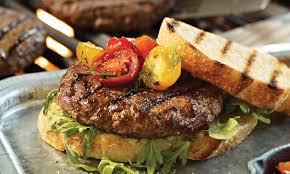 During my travels over the past few years, many others I encounter in airports, rental car kiosks, and hotel lobbies get to talking about where they are from. When I tell them I am from Omaha, they don't look down, or frown in the least... a large number of them came right back with "Oh My God, I went to THE BEST steakhouse EVER there. It was to die for!" Now we know that that there are the usual suspects in that department, but were lately encouraged to closely examine the local burger potential.
From the charm of the Old Market to the sprawl of West Omaha that is marked by many Grade A restaurants, you can get your hands (and lips) on Greek, Chinese, Middle Eastern, Italian, Bohemian, Latin American, Mexican, and Indian food, just for starters. We are still very excited to hone in and focus on the All-American pastime known as the hamburger, and we admittedly get pretty excited at the mere mention of this mouthwatering slab of meat on a bun with the other provisions of your choice.
Let us say for certain that covering Omaha's "best burger" offerings was even more difficult than Lincoln. There are establishments in our fine city that will not make the top 3 list that still have a spectacular burger, and we encourage you to check out the neighborhoody ambiance and friendly charm that you can find on other lists with five or ten cherished spots for the respective beckoning beef treasure to reside. Here are the 3 that trusted locals and our favorite cohorts just couldn't resist saying were the best, and going there to sample the goods is going to be one mouth-watering and rewarding "fries on the side" afternoon's outing.
Dinkers:
"The Haystack" is the popular item here that was delicious enough to be mentioned in Midwest Living, The World-Herald, Culture Trip, and many more publications as what many consider the finishing star contender. In August of 1965, Frank Synowlecki opened Dinkers in the middle of Sheely Town, an area rich with Polish Immigrants and brooding change. Most on the inside and seared on the outside, you can even get your hands on the Triple Decker Dinker Burger with over a POUND of hamburger for just ten dollars. If you crave a steak sandwich or chicken gizzards, you won't be the least disappointed in either, as this is "Omaha's #1 all the way."
Stella's Burgers:
The history of this very delicious establishment began back in 1936 when Stella and her husband Al Sullivan moved to Bellevue to operate a service station and turned one very small room into a tavern. Through the years this establishment has thrived on the mantra that "Good food doesn't need to be fancy", and the meat is hand pressed onto a cast iron grill. They've been named Omaha's best burger for 10 years in a row, and taking the "Stellanator" challenge involves a monstrous combo of six beef patties, 12 strips of bacon, and 6 fried eggs along with 6 slices of cheese. The Beef Philly and Grilled Chicken Breast Sandwiches are also going to be stealing your attention and taste buds in this establishment that has carved its way decidedly into a place that "Omaha can simply never do without."
Block 16:
Omaha's excellent dining location that sees most items sourced from their own family farm and has a pair of incredibly experienced and savvy food experts at the helm, we heard many raving about this place on our quest. Taking risks in some of their creations within the burger realm has paid off, and this always-delicious Omaha icon has been featured on USA Today, The Food Network, MSN, and Yahoo just for starters. Sides like Poutine and Duck Duck Goose Fries are a perfect pairing with amazing and mouth-watering mains such as the "Block Burger", and other rotating front-row caliber features. This is the place where true modern creation offers a completely different avenue of flavor, and the depth of the fare is obvious at first bite.