Upscale and Delectable While Remaining Perfectly Accessible: Sebastian's Table
Posted by Alex Heyen on Monday, September 21, 2020 at 10:04 PM
By Alex Heyen / September 21, 2020
Comment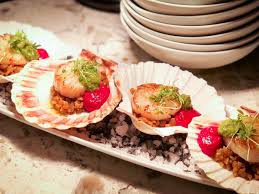 The Ground Up Restaurants family are the local culinary connoisseurs who also operate Honest Abe's Burgers and Freedom, which tops nearly every "best burger" list locally without even breaking a sweat. The gem that is Sebastian's began its Star City journey situated downtown near 14th and P in November of 2015. It was the "best thing since sliced bread" on weekends, but the weekdays didn't always draw those with the taste for Tapas-influenced greatness that the establishment offers.
The decision was made to turn that location into a downtown Honest Abe's and keep the concept alive by constantly searching for the perfect new location. Now located near 84th and GlynOaks Plaza, the finely-decorated adjoining Eleanora cocktail bar is perfect for overflow customers and offers a top-notch "date night" and celebration atmosphere. Sharing fun plates perfectly accentuates the dining experience, and offers a night out that is much different than many of its Midwestern counterparts.
Offerings such as Duck Confit on house sourdough, Sherry Mushrooms and Sausage, and Albondigas are perfect choices to experience the goodness here full-on. You can also obtain the "Waygu Slider", with black pepper ketchup, ham hock aioli, and bread and butter pickle. One dish that Spain is well-known for is Paella: it brandishes a very delicious Calasparra rice cooked in broth, and is infused with smoked paprika and saffron. You can choose Carne, Jardin, or De Mariscos: Steak and chicken with chorizo, seasonal vegetables and mushrooms, or shrimp and clam with chicken respectively.
If you never liked having to finish your Brussels Sprouts when you were younger, you are going to be in for a gigantic surprise: Here they are served up in a completely different vein with smoked hazelnut, piquillo pepper, and orange gastrique, and have quickly become a frequently-devoured favorite. Diving in headfirst into a Charcuterie Board is also ripe for anyone's exploratory taste buds and pairs well with a Cabernet Sauvignon or Malbec. As the fall months are upon us, smoked Gouda with spinach and sourdough crumble will also hit just the right spot.
Having a stellar choice for take-out options has now become a necessity, and for food of this caliber, is a sheer bargain from Sebastian's Table. To serve a famished family of 3 to 4, the Family Meal provides a salad with house VinaigrettePaella, with Pan con Tomate Brussels Sprouts. You can even quickly obtain a bottle of the house red or white Sangria on the go, or a home-destined Moscow Mule kit. Desserts such as house-made ice cream with shortbread topping and chocolate stone are also up for grabs: this is a decadently delicious treat composed of dark chocolate and hazelnut mousse almond sponge cake, topped with flamed sherry.
The service is speedy and on point, which is a tricky feat in a place that offers small plates as its staple fare. Vegan and gluten-free diners have plentiful options, and will remain an anchor in Lincoln to those that have a deep understanding of why some eaters simply can't process the "way of the wheat." We can't wait to see what the future holds for this inspiring and exciting locale: They possess an obvious passion for the most tempting items for the taste buds, and we will consistently salute Sebastian's Table for their greatness!