Loveland Colorado Homes for Sale | Loveland Real Estate
Welcome to beautiful Loveland Colorado. This Home Rule Municipality is the second most populated area in Larimer County and about 46 miles north of Denver. The city was officially founded back in 1877 along the newly constructed line of the Colorado Central Railroad. It's named after William A H Loveland, the president of the Colorado Central Railroad founded just 1 mile upstream from the existing small settlement of St. Louis. Over the years, it has grown into the booming town it is today and currently home to over 77,000 residents. Read on below the listings to learn more about Loveland Colorado or contact us at any time for more information on Loveland real estate.
And, for your convenience, register for a free account to automatically receive email alerts whenever new Loveland Colorado real estate listings come on the market that match your search criteria.
Loveland Colorado Homes for Sale | Real Estate Search
September 22, 2023
Relocating to Loveland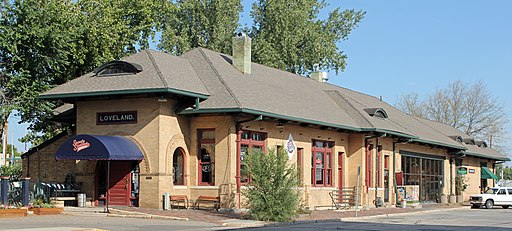 Planning a move to Loveland? Maybe you're just getting a feel for the area. Looking to move to Colorado in general? Loveland might be ideal. But let's talk a little bit about the area, the community, and why Loveland might make a great choice for your next home purchase.
They say that everything you love is here. You're just 45 minutes from the Denver area and the Rocky Mount National Park. You're just 15 minutes from Fort Collins and 40 minutes from Boulder. It's a great central city that's ideal for art lovers, foodies, outdoor enthusiasts, nature lovers, and shoppers. It's one of the most ideal locations in the heart of northern Colorado.
Loveland has received numerous awards for simply being a great place to live. Money Magazine, USA Today, AARP, and many others have stated that this is one of the best places to live in Colorado. It has an amazing art scene, a major business center, and is located in the Colorado Front Rain region at the base of the foothills just east of the mouth of the Big Thompson River Canyon. This means that not only do we have phenomenal views, but nature enthusiasts have access to some of the best trails and outdoor nature areas around. Because of its location along US 34, it receives a significant amount of pass-through tourist traffic, especially during the summer. It also serves as a bedroom community to commuters in many different directions all over Loveland. Many folks travel to Boulder, Westminster, and parts of the Denver Metro area for work and to the college towns of Fort Collins, Greeley, and Boulder.
Did we mention the ark? I know I keep coming back to it but Loveland has over 475 pieces of art in its public art collection all over town. You'll see sculptures, murals, flatwork, and over 150 pieces of the city's sculpture can be found in the Benson Sculpture Garden. The Sculpture in the Park is an annual show taking place each August where artists can exhibit their work from around the world.

What do residents think of Loveland?
"I enjoy the smaller city vibe of Loveland and really love the downtown! People are very friendly and open to each other here. The downtown is home to unique, older homes, with a quite, friendly atmosphere. For a farm-to-table restaurant, A.K.A Kitchen is awesome, and the old style arcade is a lot of fun and a good place for a drink and game of Pac Man!"
"I have lived in Loveland for 8 years now. I really do enjoy everything about living in this town! The majority of people are very polite, nice, courteous and friendly. The town has a small-town feeling but it is pretty big in size and variety in shopping places. There are beautiful parks and lakes all around town to take children, have a picnic, or a lake day. The snow plows are very good about cleaning the roads early in the morning before people start leaving for work. Loveland is not a party town, which means it is very quiet after 9 pm even on the weekends. I personally enjoy this because there is not a lot of chaos at nights since I live close to downtown." - Niche.com

Loveland Schools
Loveland schools are part of the Thompson R2 J school district. This district has five high schools, six middle schools, and 19 elementary schools. Loveland is also home to Ames Community College, William Loveland College, and Colorado Christian University. There are also seven private schools as well. Some of the top-rated schools include Liberty Common charter school, Fossil Ridge high school, Ridgeview Classical charter school, and the Kinard Core Knowledge middle school.
Loveland Real Estate
Real estate in Loveland is fairly affordable compared to neighboring metropolitan towns like Denver. The median home value is about $300,000 and there are condominiums, townhouses, duplexes, single-family homes, and larger homes on acreage ranging anywhere from $150,000 on up to $1 million-plus. 64% of Loveland residents own their own homes and with the median rent of just under $1300, investors can also cash in on the rental market. Whether you are relocating to Loveland for the first time, moving across town, or just want to know a little bit more about the area, browse all active homes for sale in Loveland Colorado above and contact our office below to schedule a showing or for a personalized list of all Loveland real estate that matches your search criteria and price.
Contact Your Loveland Realtor®
Search All Loveland Neighborhoods
Image Jeffrey Beall, CC BY-SA 3.0 <https://creativecommons.org/licenses/by-sa/3.0>, via Wikimedia Commons | DebateLord at English Wikipedia, Public domain, via Wikimedia Commons